Sarah Drew, who portrays Dr. April Kepner in Grey's Anatomy (ABC), went to Monaco in June 2015 with her husband and their two kids. The actress spent some time to answer journalists' questions about season 12, her character, fans' passion for the show… (I'm not a native English speaker, so my apologies if there are English mistakes in the actress's answers)
— Patrick Dempsey's character has died, so what's going to happen in next season? Do you think another character's going to appear?
Sarah Drew: I just found out today (NB: the collective interview took place on Tuesday 16 June) that Martin Henderson is coming on to the show, which I'm very excited about because he was… I did a pilot with him for Shonda Rhimes that actually didn't go a couple of years ago, so I'm very excited. But nobody can replace "McDreamy". "McDreamy" is "McDreamy", you know! (laughter)
— What's next for you in season 12, if you can give us some keys?
Sarah Drew: I do know that my character has gone through a significant change, had this crazy experience on the battle front as surgeon at war. And now, I'm back and I'm a new person who's coming into conflict with my relationship with Jackson, and we're gonna see she's super badass now. She's a very very different person. I think everybody's really excited because there's a new vamp of the show, and we found Debbie Allen (NB: Dr. Catherine Avery in the series) as one of our producers now. We'll see, it's gonna be fun.
— Your character is very different from what she was at the beginning: the shy one, and now, she's tough.
Sarah Drew: Yes. April has evolved quite a bit. I mean, it's a real gift to get to play this character because I feel like I've played four different characters over the course of this one show. She's changed so much, she's grown and matured. She really kind of started off like a teenager. She wasn't a teenager, but that's sort of how she behaved and now she's really mature and now I feel like she's a real grown-up, very deep grown-up stuff, it's been cool to get to see that happen.
— Why do you think people are attracted so much by the show?
Sarah Drew: I think people relate to these characters. An then you have the heightened experience of life-and-death situations of being in a hospital, trying to save lives and is the patient gonna live? is the patient gonna die? But everything relates back to these relationships, and people see themselves in these relationships, and they fall in love with these relationships, and they hope for love. It's a very hopeful show, I find, there's a lot of hope that I think people are drawn to as well. Especially in an era where there are a lot of dark shows out right now. There's like a levity and a lightness, it's about people trying to do the right thing and sometimes it's failing.
— But in the show, there are some dark situations.
Sarah Drew: Absolutely. There are absolutely dark situations on the show, but I think it's about people inherently trying to overcome it, trying to do the right thing, you know.
— How do you connect with fans who watch the show? Social networks?
Sarah Drew: Twitter, Instagram. I don't meet fans very often. I mean, I'm kind of a homebody, I stay with my family. I live in a part of LA where celebrities don't hang out. I don't ever do my hair, make-up so often, so when I get recognized, it's because people think they met me at the gym!
— Do you think it's important to have feedbacks from the people who watch the show?
Sarah Drew: Absolutely!
— How do you have that? Is it social network ?
Sarah Drew: We get feedbacks through Twitter. I live-tweet a lot. And the fans have kept the show going. I mean, it's… We won a People's Choice Award for Best Drama in the States this year and, I guess that was everywhere, I don't know, but for a show to win People's Choice Awards in its eleventh season, it's really because the fans have just embraced it and loved it and kept it going, and I… We're so grateful, grateful to fans.
— Why do you think the public like the hospital TV shows?
Sarah Drew: I think it's because of the heightened stakes, like we're dealing with life-and-death situations. So you get invested in the characters on the show, and then you get invested in the patients, and then you see how the patients' lives are connected to the doctors'. And so, there are a lot of ways to connect. I think it's all about connection.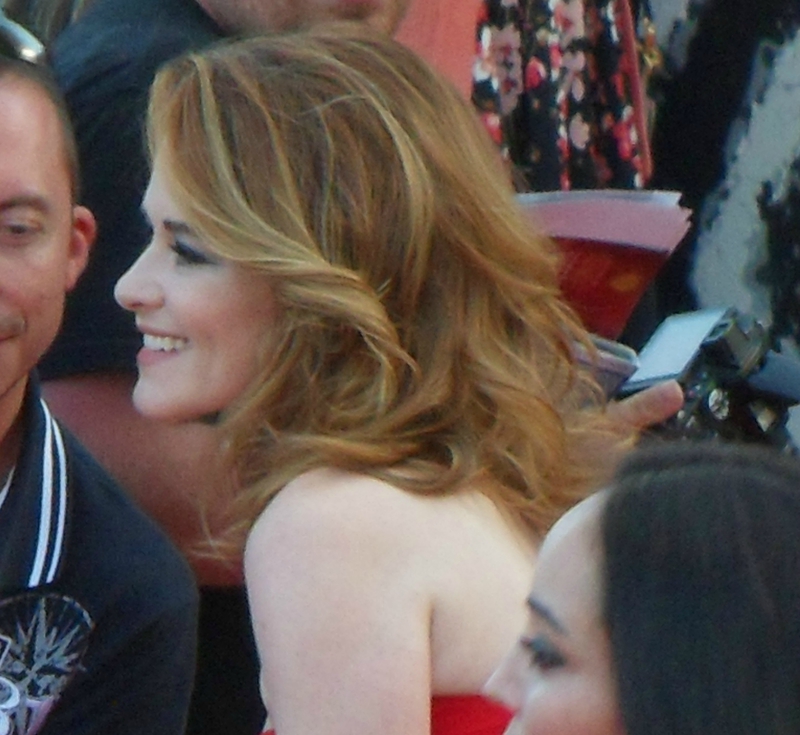 — When you're going to an hospital right now, do you see things differently?
Sarah Drew: Absolutely. Yeah. This season, my character… I was pregnant while my character was pregnant, and we shot my labor and delivery scene, and then I went into labor ten hours later. So I was literally in the labor and delivery scene and then ten hours later, in real labor, real delivery room, dealing with nurses, it was pretty crazy.
— Did you do like a boot camp in a hospital before?
Sarah Drew: I think probably the original cast members in the first few seasons actually went and observed surgeries, and that's always been available to us, but I have not done it yet. I know I should, it's ridiculous that I haven't. I'm going to, I need to do it. I would like to go.
— Is it because you're afraid?
Sarah Drew: No. No. I think it would be really interesting. I would be fascinated, actually. It's a matter of finding the time in my life to go.
— April is a very religious person. What is your relationship with religion yourself?
Sarah Drew: My father is a minister. I grew up in a Christian household, so my faith has always been a part of my life, a very, very important part of my life. And it was really interesting because when they decided that my character would become a Christian, Shonda Rhimes invited me into her office and said: "we know that you know a lot about this world, and we want to tell an authentic story, so you pitch us ideas, and any time it doesn't feel right, come and tell us, we want to tell a true story". It's been an honor to get to collaborate in that way.
— Could you describe us a typical day on the set?
Sarah Drew: Typical day on set… You show up, you go in the trailer, go to hair and make-up, hang out with your hair maker folks. You go to rehearse the scenes, so you see the crew. And then they settle the lightings, you go back to the trailer, you get dressed and you finish getting ready. And then, you go back and you shoot, and it's just take after take after take. And you hang out with the actors and between takes, we like to watch YouTube videos, or just read, it's just silly stuff: cats, babies going though tunnels, that's my favorite one right now (laughter)
— Did you watch the show?
Sarah Drew: Yes, and I watched it from the beginning. It's the one show that my husband and I watch since the beginning. So it was really exciting when I got to come and be a part of the show.
— Some of the major characters died. Do you fear that Shonda Rhimes could kill your character?
Sarah Drew: Oh, we could all be killed off. Anybody could go at any time, so I'm just embracing the present for what the present is. I would love to stay on the show, but I know there's a lot of chances I can go.
— Do you have a plan B, just in case?
Sarah Drew: When this ends, I'll just move on to the next thing. I'll just start auditioning again, and be so grateful for what this experience has been.
— You're doing this for such a long time and might have missed opportunities. Like you said, you'll have to do it all over again.
Sarah Drew: You can't spend to much time mourning the missed opportunities when you are in the middle of a greatest opportunity you can ever ask for, you know what I mean? I got the chance, like I got to do a movie two summers ago and then got to promote it last summer and… It's such a full-time job, we do 24 episodes a year, it's hard. When you do have that break you kinda want to take that break. I mean, it's fun to work sometimes, but I think… When I get concerned about "oh to get to do this, I need to go do this"... I think about what Chandra Wilson (NB: Dr. Bailey in the series) actually said to me. She said: "why are you worrying about that right now? You have a job, just enjoy the fact you have a job right now. You've got a job. This job will eventually end and you go find the next job". I think it's a very healthy attitude.
Check out the other articles about the 2015 edition:
Criminal Minds
How To Get Away With Murder
(If you read French, you can find more articles here)

Check out the photo gallery.
Seriecalement vôtre,
VK