01 mars 16
Sarah Drew, l'interprète du docteur April Kepner dans Grey's Anatomy (ABC et diffusé en France par TF1), est venue représenter la série à Monte Carlo en juin 2015, accompagnée de son mari et de leurs deux enfants. Lors d'une table ronde, l'actrice a répondu aux questions des journalistes sur la saison 12, son personnage, la passion des fans pour la série…
— Votre personnage est très différent de celui qu'il était au début: timide, et maintenant, il s'est endurci…
Sarah Drew : Oui. April a pas mal évolué. Je veux dire, c'est un vrai cadeau de pouvoir jouer ce personnage parce que j'ai l'impression d'avoir joué quatre différents personnages tout au long de cette série. Elle a tellement changé, elle a grandi et mûri. Au début, elle était un peu comme une adolescente. Ce n'était pas une adolescente, mais elle se comportait comme telle et à présent, elle a vraiment mûri et j'ai l'impression qu'elle est devenue une véritable adulte. C'est cool d'avoir pu assister à cette progression.
— Selon vous, pourquoi les gens sont-ils tant attirés par la série ?
Sarah Drew : Je pense que les gens se reconnaissent dans ces personnages. Et vous avez cette expérience intense que l'on vit dans un hôpital quand on fait face à des situations de vie ou de mort, quand on essaye de sauver des vies, est-ce que le patient va vivre ? est-ce que le patient va mourir ? Mais on revient toujours aux relations humaines, et les gens se retrouvent dans ces relations, et ils tombent amoureux de ces relations, et ils espèrent l'amour. C'est une série optimiste, je pense, il y a beaucoup d'espoir et je pense que les gens sont attirés par cela également. En particulier en ce moment où il y a un grand nombre de séries sombres. Il y a de la légèreté, c'est une série sur des gens qui essaient de faire la bonne chose et de temps en temps, ça ne marche pas.
— Pourtant dans la série, il y a des situations dramatiques.
Sarah Drew : Absolument. Il y a absolument des situations dramatiques dans la série, mais je crois que la série est centrée sur des personnes qui intrinsèquement tentent de les surmonter, de faire la bonne chose, vous savez.
— Comment êtes-vous en contact avec les fans qui regardent la série ? Réseaux sociaux ?
Sarah Drew : Twitter, Instagram. Je ne rencontre pas les fans très souvent. En fait, je suis plutôt casanière, je reste avec ma famille. Je vis dans une partie de Los Angeles où les célébrités ne sortent pas. Je ne me coiffe ni ne me maquille très souvent, alors quand je suis reconnue, c'est parce que les gens pensent qu'ils m'ont croisée à la gym !
— Pensez-vous qu'il est important d'avoir des retours des personnes qui regardent la série ?
Sarah Drew : Tout à fait !
— Comment les recueillez-vous ? Par les réseaux sociaux ?
Sarah Drew : Nous recevons les retours via Twitter. Je tweete beaucoup en direct. Et les fans ont permis que le show perdure. Je veux dire, c'est… Nous avons gagné un People's Choice Award dans la catégorie de la meilleure série dramatique aux Etats-Unis cette année, j'imagine que ça a été relayé partout, je ne sais pas, mais pour qu'une série remporte un People's Choice Award alors qu'elle en est à sa onzième saison, c'est vraiment grâce aux fans qui l'ont adoptée et adorée et portée pendant toutes ces années, et je… Nous somme si reconnaissants, reconnaissants envers les fans.
— Selon vous, pourquoi le public aime-t-il les séries médicales ?
Sarah Drew : Je pense que c'est à cause des enjeux cruciaux, comme gérer des situations de vie ou de mort. Donc vous vous intéressez aux personnages de la série, et puis vous vous intéressez aux patients, et ensuite, vous voyez comment les vies des patients s'entremêlent avec celles des médecins. Ainsi, il y a une multitude de façons de se lier. Je pense que tout tourne autour des rapports humains.
— Quand vous allez dans un hôpital maintenant, voyez-vous les choses différemment ?
Sarah Drew : Tout à fait. Oui. Cette saison, mon personnage... J'étais enceinte quand mon personnage l'était, et nous avons tourné ma scène où je suis en travail et celle de l'accouchement, et puis le travail s'est déclenché dix heures plus tard. J'étais littéralement en train de tourner ces scènes de travail et d'accouchement et dix heures après, le travail était réel, j'étais dans une vraie salle d'accouchement, avec des infirmières, c'était assez dingue.
— Avez-vous suivi une sorte de boot camp dans un hôpital avant ?
Sarah Drew : Je crois que les acteurs présents dans les premières saisons ont probablement assisté à des opérations, et cela a toujours été possible pour nous, mais je ne l'ai pas encore fait. Je sais que je devrais, c'est ridicule de ne pas l'avoir fait. Je le ferai, je dois le faire. J'aimerais le faire.
— Est-ce parce que vous avez peur ?
Sarah Drew : Non. Non. Je pense que ça pourrait être très intéressant. En fait, ça me fascinerait. Il faut juste que je trouve du temps pour le faire.
— April est une personne très religieuse. Quel est votre rapport avec la religion ?
Sarah Drew : Mon père est pasteur. J'ai grandi dans un foyer chrétien, par conséquent, ma foi a toujours fait partie de ma vie, a toujours eu une place importante dans ma vie. Et c'était vraiment intéressant parce que lorsqu'il a été décidé que mon personnage serait chrétien, Shonda Rhimes m'a invitée dans son bureau et m'a dit : "nous savons que tu as une grande connaissance de ce monde, et nous voulons raconter une histoire authentique, alors présente-nous des idées, et si jamais quelque chose ne va pas, viens et dis-le nous, nous voulons raconter une histoire vraie". Cela a été un honneur de pouvoir collaborer de cette manière.
— Pouvez-vous nous décrire une journée de tournage type ?
Sarah Drew : Une journée de tournage type… Vous arrivez, vous rejoignez la loge, vous passez par la case coiffure et maquillage, vous traînez avec vos coiffeurs. Vous répétez les scènes, vous voyez l'équipe. Ensuite on met au point l'éclairage, vous retournez dans la loge, vous vous habillez. Puis vous sortez et vous tournez, en fait, vous enchaînez les prises l'une après l'autre. Et vous passez du temps avec les acteurs et pendant les prises, nous aimons regarder des vidéos YouTube, ou lire, ce sont des trucs débiles : des chats, des vidéos de bébés dans une voiture traversant un tunnel, celle-ci est ma préférée. (rires)
— Avez-vous regardé la série ?
Sarah Drew : Oui, et je l'ai suivie depuis ses débuts. C'est la seule série que mon mari et moi regardons depuis ses débuts. Alors c'était vraiment excitant d'avoir pu faire partie de l'aventure.
— Certains personnages majeurs sont morts. Avez-vous peur que Shonda Rhimes tue votre personnage ?
Sarah Drew : Oh, nous pouvons tous être tués. N'importe qui peut disparaître à n'importe quel moment, alors je profite du présent pour ce qu'il est. J'adorerai rester dans le show, mais je sais qu'il y a des chances que je parte.
— Avez-vous un plan B, au cas où ?
Sarah Drew : Je continuerai mon chemin. Je recommencerai les auditions, et serai reconnaissante pour ce que cette expérience a été.
— Vous jouez dans la série depuis si longtemps, et peut-être avez laissé passer des opportunités. Comme vous l'avez dit, vous allez devoir tout recommencer.

Sarah Drew : Vous ne pouvez pas perdre du temps à regretter les opportunités manquées quand vous êtes au milieu de la meilleure opportunité que vous pouviez demander, vous voyez où je veux en venir ? J'ai eu la chance de faire un film il y a deux étés de cela et puis je suis partie faire sa promotion l'été dernier et… C'est un job qui prend tellement de temps, nous faisons 24 épisodes par an, c'est dur. Quand vous avez une pause, vous avez envie d'en profiter. C'est sympa de travailler de temps en temps, mais je crois… Quand je commencerai à me dire "oh, pour faire ça, il faut que je fasse ça"… Je me rappelle de ce que Chandra Wilson (NB : le docteur Bailey dans la série) m'a dit un jour. Elle a dit : "pourquoi t'inquiètes-tu de cela aujourd'hui ? Tu as un job, alors profite du fait que tu as maintenant un job. Tu as un job. Un jour, ce job s'achèvera et tu chercheras le prochain". Je pense que c'est une attitude très saine.
— Le personnage incarné par Patrick Dempsey est mort, qu'est-ce qui va arriver dans la prochaine saison ? Pensez-vous qu'un nouveau personnage va arriver ?
Sarah Drew : Je viens d'apprendre aujourd'hui (NB : la table ronde s'est déroulée le mardi 16 juin) que Martin Henderson rejoint le show, et j'en suis exaltée parce qu'il était… J'ai fait un pilote avec lui pour Shonda Rhimes il y a quelques années qui finalement n'a pas été retenu, alors je suis très impatiente. Mais personne ne peut remplacer le docteur "Mamour". Vous savez, le docteur "Mamour", c'est le docteur "Mamour" ! (rires)
— Qu'est-ce qui vous attend dans la saison 12, si vous pouvez nous donner des pistes ?
Sarah Drew : Je sais que mon personnage a connu un changement considérable, a eu cette incroyable expérience sur le champ de bataille en tant que chirurgienne de guerre. Et maintenant, je suis de retour et je suis une nouvelle personne qui entre en conflit dans sa relation avec Jackson, et nous verrons qu'elle est devenue une super dure à cuire. C'est une personne si différente. Je crois que tout le monde est très enthousiaste parce qu'il y a eu un renouveau sur la série, et nous comptons Debbie Allen (NB : le docteur Catherine Avery dans la série) parmi nos producteurs. Nous verrons, ce sera fun.
Retrouvez les autres articles de l'édition 2015 :
Journal de bord
Table ronde Profilage
Table ronde Esprits Criminels
Table ronde How To Get Away With Murder
Conférence de presse Empire
Retrouvez les photos dans la galerie.
Sériecalement vôtre,
VK
Sarah Drew, who portrays Dr. April Kepner in Grey's Anatomy (ABC), went to Monaco in June 2015 with her husband and their two kids. The actress spent some time to answer journalists' questions about season 12, her character, fans' passion for the show… (I'm not a native English speaker, so my apologies if there are English mistakes in the actress's answers)
— Patrick Dempsey's character has died, so what's going to happen in next season? Do you think another character's going to appear?
Sarah Drew: I just found out today (NB: the collective interview took place on Tuesday 16 June) that Martin Henderson is coming on to the show, which I'm very excited about because he was… I did a pilot with him for Shonda Rhimes that actually didn't go a couple of years ago, so I'm very excited. But nobody can replace "McDreamy". "McDreamy" is "McDreamy", you know! (laughter)
— What's next for you in season 12, if you can give us some keys?
Sarah Drew: I do know that my character has gone through a significant change, had this crazy experience on the battle front as surgeon at war. And now, I'm back and I'm a new person who's coming into conflict with my relationship with Jackson, and we're gonna see she's super badass now. She's a very very different person. I think everybody's really excited because there's a new vamp of the show, and we found Debbie Allen (NB: Dr. Catherine Avery in the series) as one of our producers now. We'll see, it's gonna be fun.
— Your character is very different from what she was at the beginning: the shy one, and now, she's tough.
Sarah Drew: Yes. April has evolved quite a bit. I mean, it's a real gift to get to play this character because I feel like I've played four different characters over the course of this one show. She's changed so much, she's grown and matured. She really kind of started off like a teenager. She wasn't a teenager, but that's sort of how she behaved and now she's really mature and now I feel like she's a real grown-up, very deep grown-up stuff, it's been cool to get to see that happen.
— Why do you think people are attracted so much by the show?
Sarah Drew: I think people relate to these characters. An then you have the heightened experience of life-and-death situations of being in a hospital, trying to save lives and is the patient gonna live? is the patient gonna die? But everything relates back to these relationships, and people see themselves in these relationships, and they fall in love with these relationships, and they hope for love. It's a very hopeful show, I find, there's a lot of hope that I think people are drawn to as well. Especially in an era where there are a lot of dark shows out right now. There's like a levity and a lightness, it's about people trying to do the right thing and sometimes it's failing.
— But in the show, there are some dark situations.
Sarah Drew: Absolutely. There are absolutely dark situations on the show, but I think it's about people inherently trying to overcome it, trying to do the right thing, you know.
— How do you connect with fans who watch the show? Social networks?
Sarah Drew: Twitter, Instagram. I don't meet fans very often. I mean, I'm kind of a homebody, I stay with my family. I live in a part of LA where celebrities don't hang out. I don't ever do my hair, make-up so often, so when I get recognized, it's because people think they met me at the gym!
— Do you think it's important to have feedbacks from the people who watch the show?
Sarah Drew: Absolutely!
— How do you have that? Is it social network ?
Sarah Drew: We get feedbacks through Twitter. I live-tweet a lot. And the fans have kept the show going. I mean, it's… We won a People's Choice Award for Best Drama in the States this year and, I guess that was everywhere, I don't know, but for a show to win People's Choice Awards in its eleventh season, it's really because the fans have just embraced it and loved it and kept it going, and I… We're so grateful, grateful to fans.
— Why do you think the public like the hospital TV shows?
Sarah Drew: I think it's because of the heightened stakes, like we're dealing with life-and-death situations. So you get invested in the characters on the show, and then you get invested in the patients, and then you see how the patients' lives are connected to the doctors'. And so, there are a lot of ways to connect. I think it's all about connection.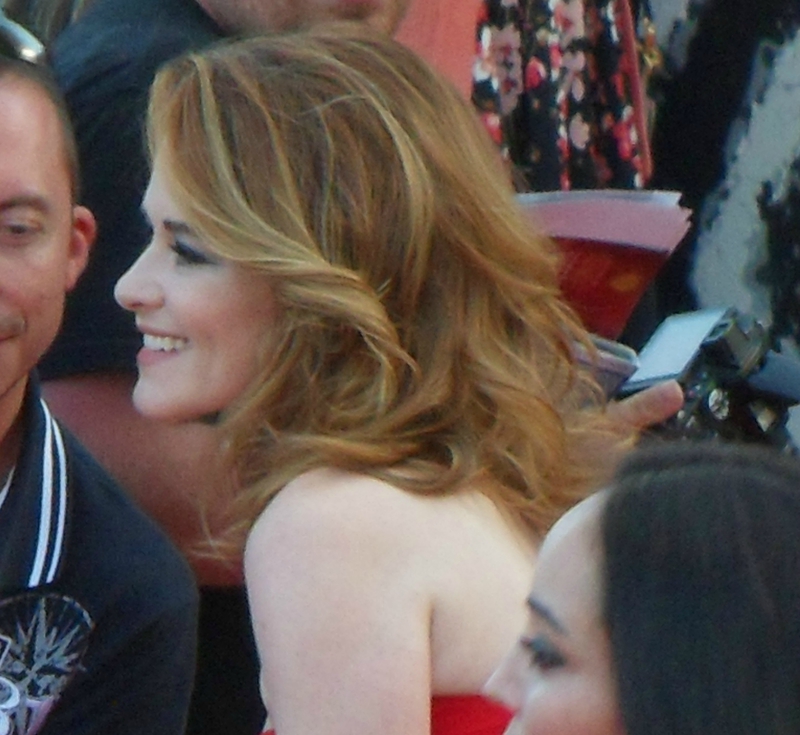 — When you're going to an hospital right now, do you see things differently?
Sarah Drew: Absolutely. Yeah. This season, my character… I was pregnant while my character was pregnant, and we shot my labor and delivery scene, and then I went into labor ten hours later. So I was literally in the labor and delivery scene and then ten hours later, in real labor, real delivery room, dealing with nurses, it was pretty crazy.
— Did you do like a boot camp in a hospital before?
Sarah Drew: I think probably the original cast members in the first few seasons actually went and observed surgeries, and that's always been available to us, but I have not done it yet. I know I should, it's ridiculous that I haven't. I'm going to, I need to do it. I would like to go.
— Is it because you're afraid?
Sarah Drew: No. No. I think it would be really interesting. I would be fascinated, actually. It's a matter of finding the time in my life to go.
— April is a very religious person. What is your relationship with religion yourself?
Sarah Drew: My father is a minister. I grew up in a Christian household, so my faith has always been a part of my life, a very, very important part of my life. And it was really interesting because when they decided that my character would become a Christian, Shonda Rhimes invited me into her office and said: "we know that you know a lot about this world, and we want to tell an authentic story, so you pitch us ideas, and any time it doesn't feel right, come and tell us, we want to tell a true story". It's been an honor to get to collaborate in that way.
— Could you describe us a typical day on the set?
Sarah Drew: Typical day on set… You show up, you go in the trailer, go to hair and make-up, hang out with your hair maker folks. You go to rehearse the scenes, so you see the crew. And then they settle the lightings, you go back to the trailer, you get dressed and you finish getting ready. And then, you go back and you shoot, and it's just take after take after take. And you hang out with the actors and between takes, we like to watch YouTube videos, or just read, it's just silly stuff: cats, babies going though tunnels, that's my favorite one right now (laughter)
— Did you watch the show?
Sarah Drew: Yes, and I watched it from the beginning. It's the one show that my husband and I watch since the beginning. So it was really exciting when I got to come and be a part of the show.
— Some of the major characters died. Do you fear that Shonda Rhimes could kill your character?
Sarah Drew: Oh, we could all be killed off. Anybody could go at any time, so I'm just embracing the present for what the present is. I would love to stay on the show, but I know there's a lot of chances I can go.
— Do you have a plan B, just in case?
Sarah Drew: When this ends, I'll just move on to the next thing. I'll just start auditioning again, and be so grateful for what this experience has been.
— You're doing this for such a long time and might have missed opportunities. Like you said, you'll have to do it all over again.
Sarah Drew: You can't spend to much time mourning the missed opportunities when you are in the middle of a greatest opportunity you can ever ask for, you know what I mean? I got the chance, like I got to do a movie two summers ago and then got to promote it last summer and… It's such a full-time job, we do 24 episodes a year, it's hard. When you do have that break you kinda want to take that break. I mean, it's fun to work sometimes, but I think… When I get concerned about "oh to get to do this, I need to go do this"... I think about what Chandra Wilson (NB: Dr. Bailey in the series) actually said to me. She said: "why are you worrying about that right now? You have a job, just enjoy the fact you have a job right now. You've got a job. This job will eventually end and you go find the next job". I think it's a very healthy attitude.
Check out the other articles about the 2015 edition:
Criminal Minds
How To Get Away With Murder
(If you read French, you can find more articles here)

Check out the photo gallery.
Seriecalement vôtre,
VK
21 juil. 15
During the festival, I met Alfred Enoch, who portrays Wes Gibbins in How To Get Away With Murder (created by Peter Nowalk and produced by Shonda Rhimes), for a collective interview. He nicely shared with the interviewers his feelings about his character, Viola Davis', Annalise Keating, and the series. Just before starting, he said few words about the party organized for 55th anniversary of the festival he attended the night before.
— Can you tell us what memory you have of the first time you read the script of How To Get Away ?
Alfred Enoch: I remember I was doing a play in London. I got the script on a two-show days. I had the matinee and the evening show, and I was going to have the audition in the next day. As I came through, my first thought was: how am I going to read it? Get prepped? Do also a decent job? And that concern was only heightened as I read it, because I thought: this is exciting, this is good, this should be an exciting, interesting job to do. I remember thinking this is an interesting… twist on something which feels more familiar. The whodunnit element told with two timeframes seemed something novel to me and it seemed like it asked questions differently.
— Do you know at the beginning that Wes killed Sam?
Alfred Enoch: No. I wish I had, but I didn't. That was one of the interesting things about working on the show. Things would change. You get the script and you think: oh, there's another piece of the jigsaw puzzle. So it's very difficult, from that perspective, to reconstruct what happened before in order to foresee what comes after.
— In the series, you're studying law. Could you have been a lawyer yourself?
Alfred Enoch: I studied literature, so my, probably my relationship with words comes from a different angle, you know. I have friends who finished doing that degree. It was never something that would have appealed to me.
— What do you like the most in your character, and what do you dislike?
Alfred Enoch: I really admire Wes's ability to cleave to his beliefs, his principles. He asks questions that are difficult, based on moral code. I rather respect that. I think one of the most difficult things about the character is… I mean, it's hard because they are put in, they are put in such difficult situations and that's probably part of the reason why people like the show. Obviously, some of his actions become questionable, but often I think people see that in a less sympathetic light than I do. Maybe that's just because as Wes, I spend a lot of time with my character. I sympathize with him. You know, I think he does something very extreme, but he does it. He does it protectively and lovely… That's one of the other things that fascinates me about the script and that was even from the pilot. It shows different sides of these characters, and it makes it hard just to pin someone down and say: this is what someone is. You know, we present ourselves differently in different situations, different scenarios and with different people. So I like that, I like it's not just so simple to say if someone does a bad thing they're a bad person.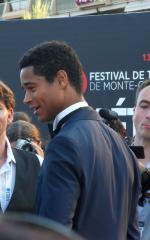 — How is it to work with Viola?
Alfred Enoch: Fantastic!
— Is it the same relation you have on screen?
Alfred Enoch: Thankfully, not! (laughter) I would be… Goodness, it would be a really exhausting experience if that was the case… Annalise Keating is such a formidable and I think, exhausting character! She's so a difficult woman in so many ways. The way she manipulates people, the way she's demanding, but Viola is lovely, she's such a nice, nice person. And it helps make the set to be a very nice place to be. There are nice people. For me, you know, coming from London and living in a city I didn't really know before, it has made all that much easier to be surrounded by good people. So I'm very grateful for Viola and the rest of the cast.
— Do you see the relationship between Wes and Annalise like a mother or more?
Alfred Enoch: There's more to it. I think there is, perhaps, a maternal side to it. She does something which I can only think was incredibly generous, in a very extreme moment for both. I think there is a maternal side, there's so much more. I think that's one of the interesting things about playing it, but also the fact there are so many different impulses, so many conflicts for them. The way it starts, they're bound together by a secret. You know, she's compromised, he knows something, she needs him not to tell people. And I think one of the fun things is the writers always come up with other ways of sort of destabilizing this relationship. There's a lot push-and-pull, there's conflict and there's attraction.
— Your character will be saved because he's got this special link with Annalise?
Alfred Enoch: I think one of the exciting things about the show is it feels like no one is safe. You know, you don't want to watch, I think, a TV… I mean… that's not necessarily true. I think sometimes… I remember I read a book when I was younger and someone spoiled the ending to me, told me who dies, and it didn't actually compromise my enjoyment of the book at all. How you get there is another thing. That was one of the elements of the show. When it solved the question of who killed Sam, it then asked another question: who else was involved, and to what degree? I like that shifting. There's always something else to find. But I think something was added to the mix: it doesn't feel very obviously that people are safe. At least, it didn't feel that way to me. I felt: Wes could have been killed… No he's gonna survive in season 1. When the stakes are that high, people actually become very extreme, especially in the context of the show. I think that any character might go. Hopefully he (Wes) survives…
— Yes, in the series everything can happen anytime, so that's very exciting to watch it. No one is safe at all.
Alfred Enoch: I'm glad that's not just a paranoia of an actor who might lose his job.
— Obviously, you're not playing in Game Of Thrones! (laughter)
Alfred Enoch: Right. I think, in a way, that comes to something which is important in any story, it's just you don't want things to be spare, or pointless, or irrelevant. You know, someone dies, it's got to be an event. I mean, whether you miss that character, whether you're glad that this character's dead, you want some kind of relationship. So I think there's something in that, in Game Of Thrones.
— What is the implication of Shonda Rimes on the show?
Alfred Enoch: She's created a really good atmosphere. You know, she's made it a permissive working environment where, you know, people feel comfortable. We had a dinner with Shonda and the creative team and all the writers, the actors, the writers, Shonda and a few of producers when we first arrived in L.A before we started the season. And that's a nice thing to do.
Check out the other articles about the 2015 edition:
Criminal Minds
Grey's Anatomy
(If you read French, you can find more articles here)

Check out the photo gallery.

Sériecalement vôtre
11 oct. 14
Avec SPOILERS
Synopsis : La série suit un groupe d'étudiants en droit et leur professeur, qui se retrouveront impliqués dans une affaire criminelle.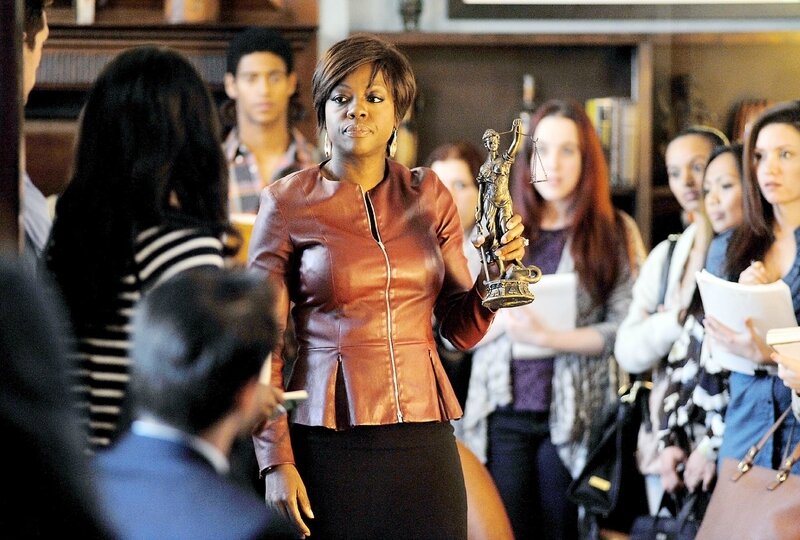 Après Grey's Anatomy, Private Practice et Scandal, Shonda Rhimes récidive avec How To Get Away With Murder. Assurément, c'était un pilote qui allait à coup sûr attirer l'attention et accroître les attentes. Et franchement, je ne suis pas déçue. Ce premier épisode est réussi. Il contient tous les ingrédients pour faire de HTGAWM le nouveau succès de Shonda Rhimes (si tout se passe bien par la suite). Elle n'est pas devenue la femme la plus puissante du petit écran pour rien.
On retrouve les thèmes habituels des séries signées Rhimes : liaisons dangereuses, secrets, concurrence entre étudiants ambitieux... Côté personnages, bien que les principaux sont la professeur et le groupe de cinq étudiants ayant obtenu le graal de faire un stage avec elle, deux se démarquent du lot. Evidemment, le premier est la professeur Keating, dynamique, assurée, au verbe aussi virevoltant que dans Scandal, autoritaire et avec des failles (à découvrir). Elle s'impose à l'écran, mais le gap entre elle et les autres personnages n'est pas abyssal, ce que j'apprécie. On ne ressent pas trop le fait qu'il y ait un héros qui écrase tous les autres qui finissent par n'être que de simples faire valoir, protagonistes de décor subissant les évènements, n'ayant pas d'objectifs et de conflits captivants.
Le deuxième est le jeune Wes, sympathique, à l'air naïf, et surtout témoin d'évènements perturbants. Les nostalgiques des films Harry Potter reconnaîtront en lui Dean Thomas. Pour ma part, quand je l'ai vu, sa tête me disait quelqu'un, je ne savais pas qui mais j'étais sûre de l'avoir déjà vu quelque part. Et puis merci imdb grâce auquel j'ai percuté que l'acteur avait joué dans Harry Potter. Les deux autres jeunes hommes qui font partie des stagiaires de Keating apparaissent plus calculateurs et prêts à tout pour parvenir à leurs fins. Les connaisseurs identifieront l'un d'entre eux comme étant le gardien John Bennett d'Orange Is The New Black (OITNB), qui ici, incarne un personnage imbu de lui-même.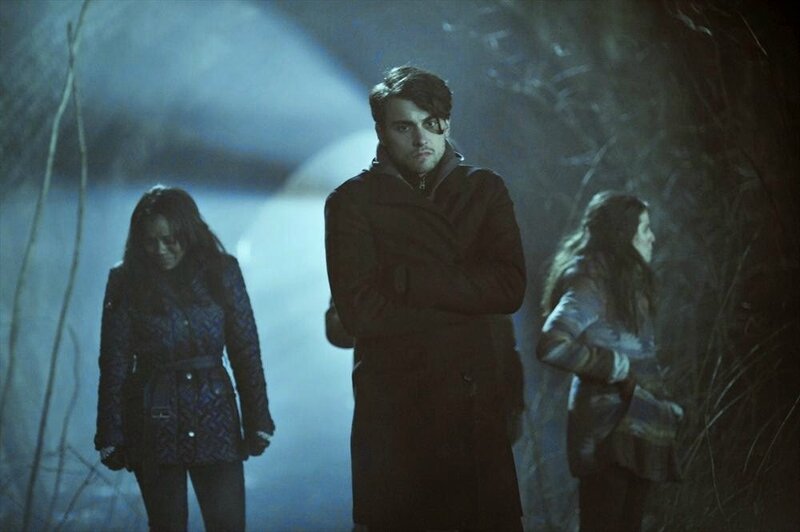 Un fil rouge vient pimenter l'histoire et sert à maintenir en haleine le téléspectateur pour qu'il revienne semaine après semaine. Un fil rouge sur fond de meurtre que le petit groupe d'étudiants, sauf l'ancien John Bennett, essaie de dissimuler au mieux. Des flashforwards sur leurs actions et leur peur viennent instiller le suspens. Comment et pourquoi le mari de Keating a été tué ? L'a-t-il été par les étudiants volontairement ou était-ce une confrontation qui a mal tourné, en d'autres termes, un accident ? Vont-ils tenir leur pacte ?
Je verrai bien le mari avoir eu une liaison avec l'associée de Keating (parce qu'à un moment, la fille le regarde bizarrement) et être plus ou moins lié à la disparition de l'étudiante dans le pilote (car c'était son professeur, il me semble, en tout cas, il la connaissait). Au vu de la réaction de Michaela, je penche moins pour un meurtre prémédité. Et je verrai bien l'étudiant absent des flashs (l'acteur de OITNB), cafter au sujet de ce secret ou faire du chantage au groupe après avoir fouiné pour découvrir ce qu'ils cachaient.
L'autre question intéressante est : Keating a-t-elle manigancé le meurtre de son mari en utilisant les étudiants (et ceux-ci se retrouvent dans la difficile situation de la couvrir) ? Car elle-même n'est pas totalement clean vis-à-vis de son époux. Au vu de ce dont elle est capable, j'émets de sérieux doutes sur son explication d'avoir succombé à la tentation à cause de la pression que son projet de fonder une famille a entraînée. Est-elle à l'origine d'un stratagème reposant sur ses trois règles ? Discréditer les témoins, proposer un autre coupable et enterrer les preuves. Sa liaison avec le flic est-elle un moyen d'avoir un pied dans la police et donc, la future enquête sur la disparition et meurtre de son mari ? Avec toutes ces questions, How To Get Away With Murder a de quoi devenir addictive.
Et vous, qu'en avez-vous pensé ?
Sériecalement vôtre,
VK Serie