21 juil. 15
During the festival, I met Alfred Enoch, who portrays Wes Gibbins in How To Get Away With Murder (created by Peter Nowalk and produced by Shonda Rhimes), for a collective interview. He nicely shared with the interviewers his feelings about his character, Viola Davis', Annalise Keating, and the series. Just before starting, he said few words about the party organized for 55th anniversary of the festival he attended the night before.
— Can you tell us what memory you have of the first time you read the script of How To Get Away ?
Alfred Enoch: I remember I was doing a play in London. I got the script on a two-show days. I had the matinee and the evening show, and I was going to have the audition in the next day. As I came through, my first thought was: how am I going to read it? Get prepped? Do also a decent job? And that concern was only heightened as I read it, because I thought: this is exciting, this is good, this should be an exciting, interesting job to do. I remember thinking this is an interesting… twist on something which feels more familiar. The whodunnit element told with two timeframes seemed something novel to me and it seemed like it asked questions differently.
— Do you know at the beginning that Wes killed Sam?
Alfred Enoch: No. I wish I had, but I didn't. That was one of the interesting things about working on the show. Things would change. You get the script and you think: oh, there's another piece of the jigsaw puzzle. So it's very difficult, from that perspective, to reconstruct what happened before in order to foresee what comes after.
— In the series, you're studying law. Could you have been a lawyer yourself?
Alfred Enoch: I studied literature, so my, probably my relationship with words comes from a different angle, you know. I have friends who finished doing that degree. It was never something that would have appealed to me.
— What do you like the most in your character, and what do you dislike?
Alfred Enoch: I really admire Wes's ability to cleave to his beliefs, his principles. He asks questions that are difficult, based on moral code. I rather respect that. I think one of the most difficult things about the character is… I mean, it's hard because they are put in, they are put in such difficult situations and that's probably part of the reason why people like the show. Obviously, some of his actions become questionable, but often I think people see that in a less sympathetic light than I do. Maybe that's just because as Wes, I spend a lot of time with my character. I sympathize with him. You know, I think he does something very extreme, but he does it. He does it protectively and lovely… That's one of the other things that fascinates me about the script and that was even from the pilot. It shows different sides of these characters, and it makes it hard just to pin someone down and say: this is what someone is. You know, we present ourselves differently in different situations, different scenarios and with different people. So I like that, I like it's not just so simple to say if someone does a bad thing they're a bad person.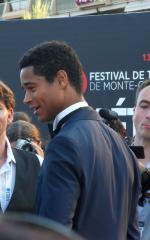 — How is it to work with Viola?
Alfred Enoch: Fantastic!
— Is it the same relation you have on screen?
Alfred Enoch: Thankfully, not! (laughter) I would be… Goodness, it would be a really exhausting experience if that was the case… Annalise Keating is such a formidable and I think, exhausting character! She's so a difficult woman in so many ways. The way she manipulates people, the way she's demanding, but Viola is lovely, she's such a nice, nice person. And it helps make the set to be a very nice place to be. There are nice people. For me, you know, coming from London and living in a city I didn't really know before, it has made all that much easier to be surrounded by good people. So I'm very grateful for Viola and the rest of the cast.
— Do you see the relationship between Wes and Annalise like a mother or more?
Alfred Enoch: There's more to it. I think there is, perhaps, a maternal side to it. She does something which I can only think was incredibly generous, in a very extreme moment for both. I think there is a maternal side, there's so much more. I think that's one of the interesting things about playing it, but also the fact there are so many different impulses, so many conflicts for them. The way it starts, they're bound together by a secret. You know, she's compromised, he knows something, she needs him not to tell people. And I think one of the fun things is the writers always come up with other ways of sort of destabilizing this relationship. There's a lot push-and-pull, there's conflict and there's attraction.
— Your character will be saved because he's got this special link with Annalise?
Alfred Enoch: I think one of the exciting things about the show is it feels like no one is safe. You know, you don't want to watch, I think, a TV… I mean… that's not necessarily true. I think sometimes… I remember I read a book when I was younger and someone spoiled the ending to me, told me who dies, and it didn't actually compromise my enjoyment of the book at all. How you get there is another thing. That was one of the elements of the show. When it solved the question of who killed Sam, it then asked another question: who else was involved, and to what degree? I like that shifting. There's always something else to find. But I think something was added to the mix: it doesn't feel very obviously that people are safe. At least, it didn't feel that way to me. I felt: Wes could have been killed… No he's gonna survive in season 1. When the stakes are that high, people actually become very extreme, especially in the context of the show. I think that any character might go. Hopefully he (Wes) survives…
— Yes, in the series everything can happen anytime, so that's very exciting to watch it. No one is safe at all.
Alfred Enoch: I'm glad that's not just a paranoia of an actor who might lose his job.
— Obviously, you're not playing in Game Of Thrones! (laughter)
Alfred Enoch: Right. I think, in a way, that comes to something which is important in any story, it's just you don't want things to be spare, or pointless, or irrelevant. You know, someone dies, it's got to be an event. I mean, whether you miss that character, whether you're glad that this character's dead, you want some kind of relationship. So I think there's something in that, in Game Of Thrones.
— What is the implication of Shonda Rimes on the show?
Alfred Enoch: She's created a really good atmosphere. You know, she's made it a permissive working environment where, you know, people feel comfortable. We had a dinner with Shonda and the creative team and all the writers, the actors, the writers, Shonda and a few of producers when we first arrived in L.A before we started the season. And that's a nice thing to do.
Check out the other articles about the 2015 edition:
Criminal Minds
Grey's Anatomy
(If you read French, you can find more articles here)

Check out the photo gallery.

Sériecalement vôtre